I stumbled across an article with the words "Boaty McBoatface" in the headline, so naturally I clicked to see what that was all about. I got a kick out the debacle.
It described a British government agency's contest designed to engage and encourage participation. They decided to let Internet users submit and ultimately vote for the name of a $287 million polar research ship.
The contest runs through April 16th, but the current leader?
RRS Boaty McBoatface.
Clearly the British have a sense of humor.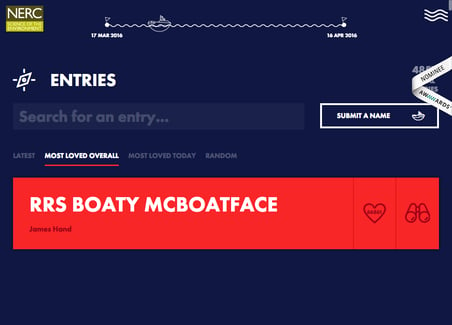 The jury is still out on if the agency will keep "Boaty McBoatface" if it does end up with the most votes. I'm guessing no, but stranger things have happened.
It made me think of how many things can go wrong when a company – small or large, public or private – launches a creative marketing campaign or online contest. Even the largest corporations, with educated and experienced marketers, flub things up from time to time. You'll read something and think, "who thought that was a good idea?" Or "how did that ever get approved?"
So how do you make sure your next product doesn't end up with a name like "Boaty McBoatface?" Here's a few things to consider:
Think it Through – In today's fast paced world, we're often led to believe that NOW is too late. We needed it done yesterday. But rushing can lead to errors and bad judgment. In order to avoid thoughtless mistakes, plan properly so you have time to review all aspects.
Play "Devil's Advocate"– There's someone on every team that consistenly comes up with the worse case or "what if" scenarios. In this case, that pessimist (er, realist) can be an asset. Think of what could go wrong. On the flip side, what if everything goes right? Do you have enough inventory and staff to handle demand? Can your website handle a huge influx of traffic?
Have Approval Processes in Place – A lot of companies pride themselves on employee empowerment. This is a good thing. But in the case of public facing campaigns, one inoffensive tweet, even inadvertently, can cause severe damage. Make sure you have approval processes in place for all published content. Have higher ups review or approve any new campaigns or online contests. Your company's reputation depends on it.
Be Clear on the Rules – Be up front and clear on the rules, and communicate them properly. No purchase necessary? One entry per person? Does the winner have to be 18? A US resident? It's not a bad idea to consult your legal team or any applicable rules or terms if using social media (such as Facebook's terms https://www.facebook.com/page_guidelines.php) to avoid any issues down the line. Make it clear that you'll exclude any inoffensive or inappropriate responses.
Response is Important – Response time is key, so if something unexpected pops up, or there's an issue, deal with it in a timely manner. Be direct. If you mess up, admit it and apologize. Make it right.
Online contests and creative campaigns can be an effective way to increase traffic and grow your business, but it's important to put a little thought into them first. What if things go wrong? What if things go right? In this case, a little preparation goes a long way.
Oh and in case you were wondering, a sampling of other boat entries include:
RRS I LIKE BIG BOATS AND I CANNOT LIE
RRS BIG METAL FLOATY THINGY-THING
RRS BOAT MARLEY AND THE WHALERS
RRS BOATASAURUS REX
RRS CLIFFORD THE BIG RED BOAT
RRS SHIP HAPPENS
RRS ICEY SMASHY SMASH
RRS IMMACRACKDATICE
RRS NICOLAS CAGE
RRS BIPPITYBOPPITY FLOATIYBOATILY
RRS BOATBACK MOUNTAIN
RRS FISH 'N' CHIPS
RRS SLIPPERY WHEN WET
RRS FEED
Now admit it. You're tempted to login and vote for Boaty McBoatface, aren't you?