adWhite is thrilled to announce that Katie Clymer has re-joined our team as a Marketing Assistant.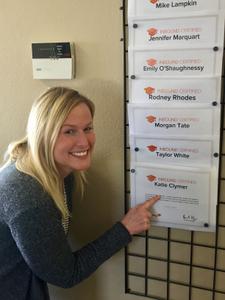 In this role, Katie will take on a variety of responsibilities including office management and marketing projects as well as assisting Taylor in his day-to-day activities.

Katie brings a wealth of experience to her position. A graduate of Sam Houston State University, she began her career at Capital One Bank and then first joined adWhite in 2010. She left after two years to raise her girls and spend time more with her family. We are thrilled to have her back!

Katie's attention to detail, organizational and communication skills, previous experience and positive energy make her the perfect addition to the adWhite family.

In her spare time, you can find Katie hanging out on the lake with her husband and two daughters. She loves to travel, stalk interior designers on Instagram, and anything and everything about Mexican food.