Blog
2 min read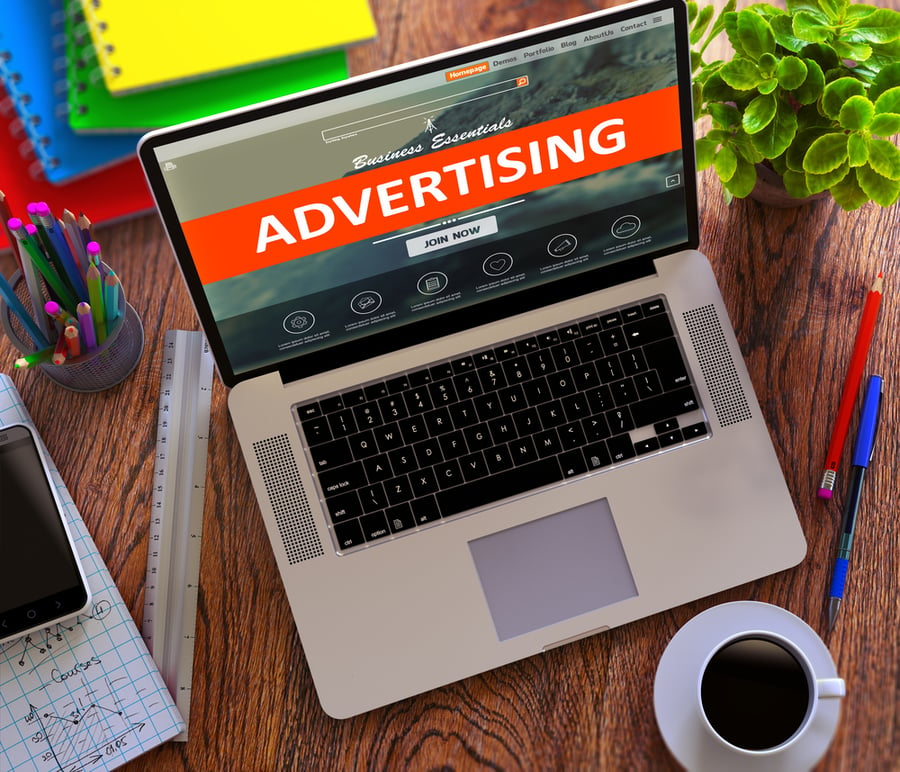 Different Types of Google Ads
There are several different kinds of Google Ad campaigns that you can set up. Not sure which one is the best fit for you? Determine what your main marketing objectives and goals are, and then choose the campaign that best meets your needs.
Here's a brief overview of the different types of Google Ad campaigns and when you should use them.
Search Ad Campaigns
Search campaigns target people who are using Google to search for certain products or services. This type of ad campaign targets people who are actively searching for what you are offering. Search campaigns are best suited to push sales, increase leads and drive traffic to your website. They are easy to set up; all you have to do is create the text for the ads and choose keywords to target.
Here's what a Google Search Ad looks like:

Display Ad Campaigns
Display Ad campaigns are image ads that show up on websites and apps. This type of ad campaign is good for driving sales, brand awareness, product consideration, expanding your reach beyond search results, and remarketing to new and existing customers.
Here's what a Google Display Ad looks like: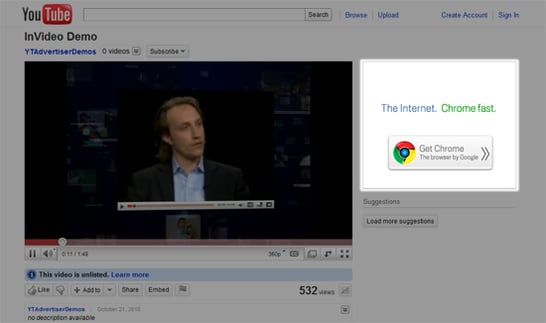 Dynamic Ads (a subset of Search and Display Campaigns)
Dynamic Ads are a type of ad that can be created in both Search and Display Campaigns. Dynamic Ads use your website content to target your audience, so they are always relevant. This type of ad is ideal for someone with a well-developed website or large amount of inventory. Dynamic Remarketing (Display) Ads can help bring previous visitors back to your site.
Video Ad Campaigns
Video Ads are live stream ads that show on YouTube and other websites. These ads are good for several objectives including brand awareness and consideration, sales, leads, expanding your reach beyond search results and remarketing.
Here's what a Google Video Ad looks like: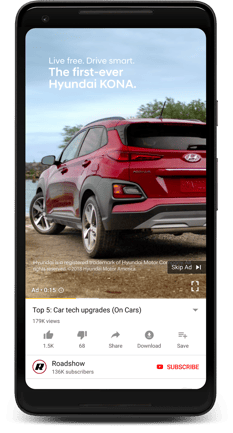 Shopping Ad Campaigns
Shopping Ads are used by retailers trying to sell their products; they are the image ads that show on the top and side of search result pages. Shopping ads are used in retail marketing; they can help boost local shops and storefronts and will help grow sales and bring in leads.
Here's what a Google Shopping Ad looks like: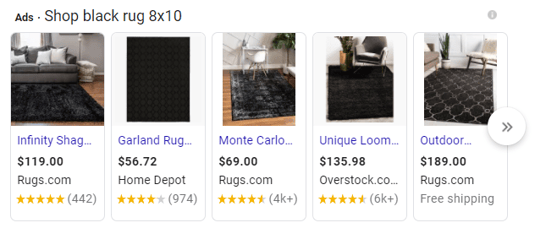 App Ad Campaigns
App Ad campaigns are used to promote apps with multi-channel marketing across the largest Google channels, including Google Search, Google Play, YouTube and the Google Display Network. This kind of campaign drives installs, engagements, and signups for your app on mobile devices and they are automated, which makes them easy to setup and maintain.
Here's what a Google App Ad looks like: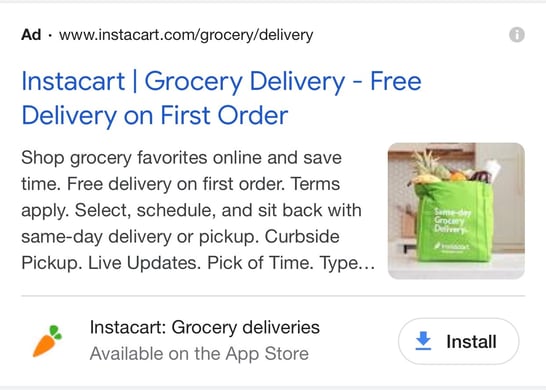 Local Ad Campaigns
Local Ad Campaigns are used to highlight your location and reach nearby shoppers by promoting in-person store sales. Local Ads have detailed information about your location and can be used to promote sales, offers and events to increase visits to your storefront.
Here's what a Google Location Ad looks like: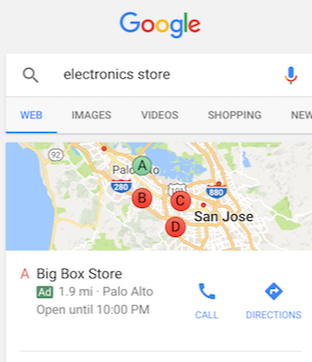 Discovery Ad Campaigns
Google Discovery Ad Campaigns are used to find new qualified leads by targeting people in the moments when they're open to learning about new brands, products, or services. According to Google, Discovery Ads can "help you reach up to 2.9 billion people as they browse feeds on YouTube, check the Gmail Promotions and Social tabs, and scroll through Discover to catch up on their favorite topics."
Here's what Google Discovery Ad looks like: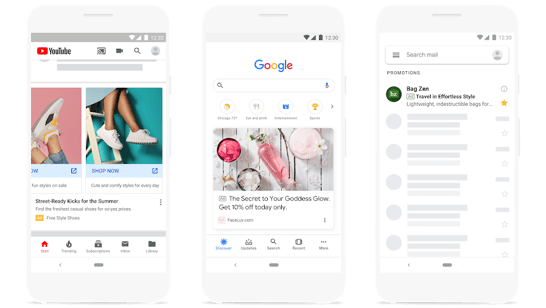 Smart Ad Campaigns
Google Smart Ad Campaigns are quick and easy ad campaigns that attract more visitors to your website or Google Maps listing. These ad campaigns are good for increasing sales and leads. Smart Ads are automated; once you set up your campaign, Google automates it leaving minimal ongoing maintenance from you.
Google Smart Campaign Ads look the same as regular Search and Display Ads, they are just automated.
If you're overwhelmed with Google Ads and don't know where to start, we can help. Visit our website to learn more, or contact us today.
Subscribe to email updates
Recent posts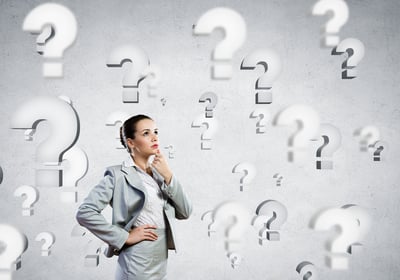 Related Articles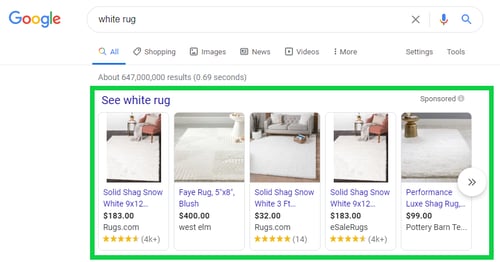 What Are Google Shopping Ads? Google Shopping Ads are also called Product Listing Ads (PLAs). They are ads that show up at the top of the pa...
Read More
Topics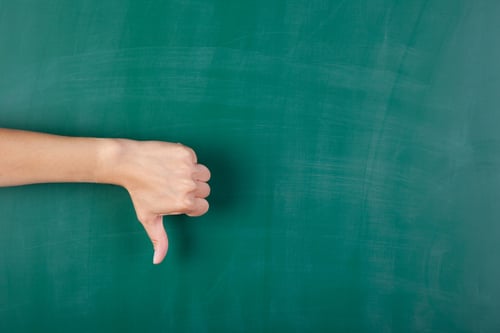 Malicious is such an ugly word. Am I right?
Read More
Topics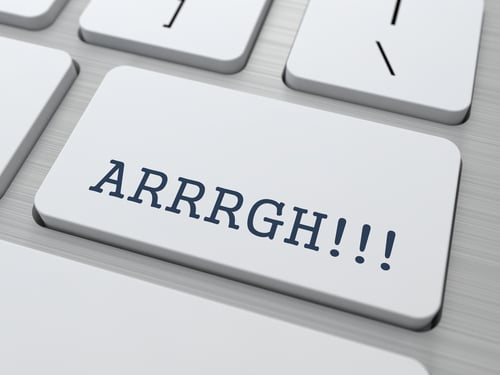 Running Google Ads is not easy. There are many moving parts that need to be constantly monitored and tweaked in order to get the most out of...
Read More
Topics