Blog
2 min read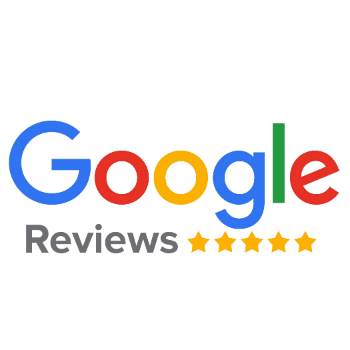 Google Review Removal Tool
While Google remains the major player of the search engine game, their Google reviews takedown process leaves much to be desired.
Google Reviews can be a helpful tool for consumers as they rate and rank businesses to provide insight to other community members. However, there is an ongoing problem with consumers posting fake or inaccurate reviews – and it has led to a loss of faith and decrease in trust in online reviews. These fake reviews also hurt companies reputations and can put a damper on their business.
Last month, Google released an addition to their review management toolkit – a "Manage your reviews" process. It allows Google My Business account owners to manage their Google reviews in a new way.
Here, we will cover the basics of the new Google "Manage your reviews" tool and show the process of review removal attempts from a Google My Business owner's perspective.
Google Review Management & Removal Tool
First, log in to your Google My Business account and go to the tool, which lives in Google Help. Google has not made this tool particularly easy to find, so make sure to save this link for future use.

Disclaimer: This tool will only work for Google My Business account owners that have a small number of business listings. Agency profiles and business managers will hit a roadblock – Google stops you from managing the reviews with a message that says "Based on the number of Business Profiles you manage, this process is not available."

Next, select the business you're looking to manage reviews for, and click 'Continue'.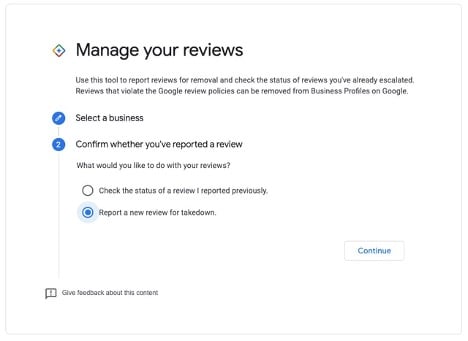 Here, unless you have already gone through the process, you will need to select "Report a new review for takedown."
Next, you'll see a list of reviews that aren't currently being escalated for takedown.
If the review violates Google Reviews policies or is inaccurate and doesn't apply to your particular business, select "Report a problem" to the right of the review you are looking to remove.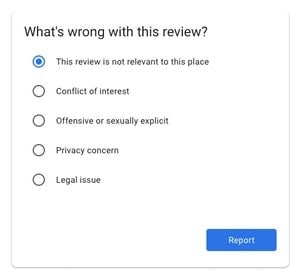 Selecting "Report a problem" will prompt a frame to pop up with a checklist inside. Select the problem you have with the review and select "Report."
A new message will appear with the words "Thank You! The review has been reported." This confirms that the review has been reported to Google and they will assess as necessary.
With the review reported, you can go check its status as it waits on Google's decision.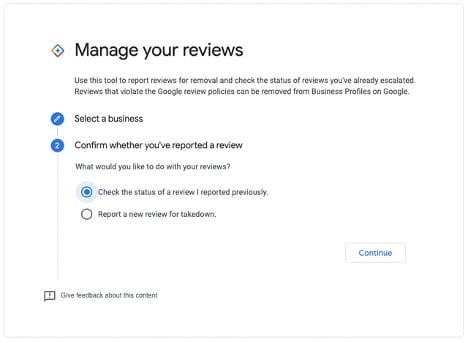 Log in to your Google My Business account, then visit the 'Manage your reviews' tool in Google Help.
Select your business and click 'Continue'. This time you are looking for the status of reported reviews, so select 'Check the status of a review I reported previously' and click 'Continue'.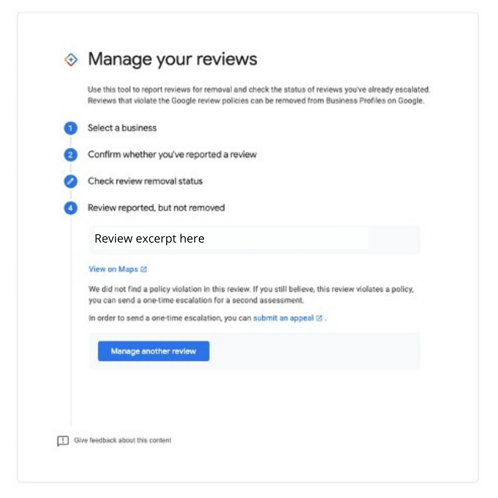 Here you will see the list of reported reviews with a new column to the right titled "Status." Under status, the words "Decision pending" will appear. Google claims it can take up to 72 hours for a decision to be made about a reported review – so keep checking on your reported review periodically to see if a decision has been made.
If your review does not violate a Google policy, the message "Report reviewed – no policy violation" will appear underneath the status column.
If you believe the review inaccurately remains on your Google My Business account, you can appeal Google's decision.
If you select the review you want to appeal against, and click 'continue', you're shown the following message about a 'one-time escalation for a second assessment'.
Fill out the form that has been prompted, and check "Submit."
Again, you will have to wait another 72 hours to see Google's decision regarding the review removal second assessment.
Conclusion
This new Google Review removal tool makes reporting reviews a little easier, but there are still some problems Google faces when it comes to understanding their audience's needs when it comes to review removal. With that said, this tool is a positive step forward in improving review quality and increasing the trust of consumers that was lost previously.
Still need help making your way through the Google-sphere? Contact adWhite today. We can help!
Subscribe to email updates
Recent posts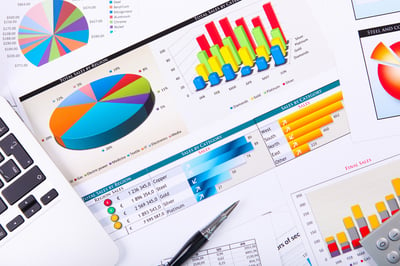 Related Articles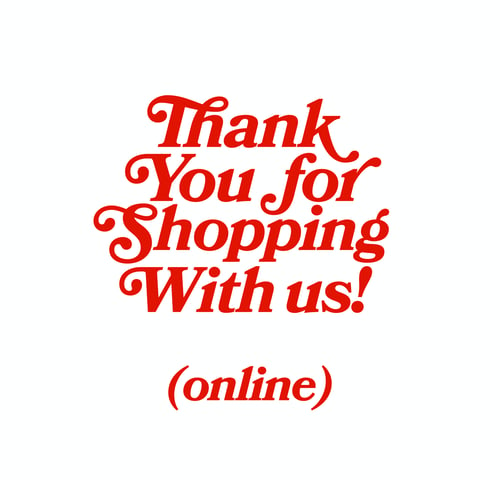 As the COVID-19 pandemic is sweeping the globe it's affecting businesses worldwide – especially small to medium-sized businesses. According ...
Read More
Topics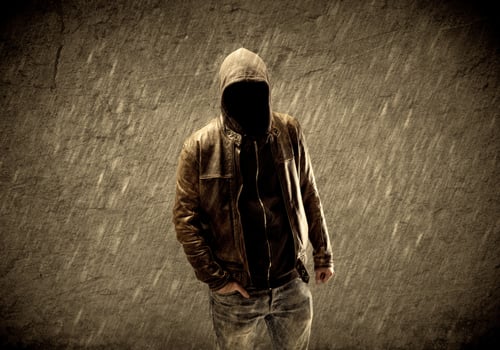 Recently we started receiving emails from Google letting us know that someone is claiming ownership of our Google My Business (GMB) profile....
Read More
Topics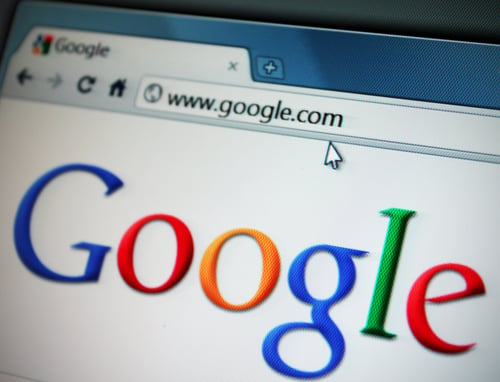 Google is a vast enterprise with many different branches, functions and uses. For this reason, it is hard to find exactly what you are looki...
Read More
Topics