As we officially enter the Season of Giving, this year feels undeniably different. While deep down we all have something to be grateful for, there is still uncertainty surrounding us. Although the traditional holiday office party is probably not going to happen, there are still many ways to celebrate and show your appreciation to your employees, clients, or vendors. Here are a few of our favorites.
Happy Socks
Bring a smile that goes all the way down to their toes with a pair (or set) of Happy Socks. These colorful and comfortable foot covers are perfect for any office environment, remote or otherwise. They are also budget friendly, starting as low as $14 (but currently on sale). They offer a variety of prints, patterns, and colors. It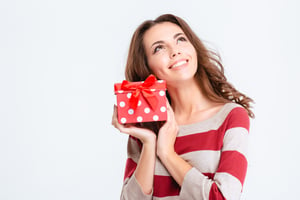 seems impossible to choose, although we're partial to these!
Wreath
Do you find the most difficult part of choosing a gift is the challenge of balancing professional but personal? Then we suggest a wreath or garland. I offer this suggestion based on personal experience. We are gifted one every year and it is the most anticipated package of the month. For maximum impact, I recommend one that is fragrant and not over the top in terms of babbles; much like this Cinnamon Pine Cone Wreath.
Something Local
Take this time to highlight what makes your company special, and support a local business all at the same time. Pretend your client is visiting your town for a long weekend and asks your opinion on where to go. What artisan shop or niche small business would you recommend? Reach out to them and see if they offer gift boxes. If they don't, they'll probably still be willing to work with you to curate a custom order. Alternatively, think about what your town is known for. Is there a cherished mural or statue? Do you live in a town with an instantly recognizable skyline? With a little thought you may uncover a clever way to include your town's charm in your spreading of cheer.
Still Undecided?
Task your most research-focused employee with browsing Knack's extensive site and design your own custom boxes. They have everything from stationary to food and even allow you to personalize your packaging with your logo. You'll find a whole section dedicated to assisting businesses with tools such as a gift planner to a calculator.
After a challenging year, many are embracing this year's season of joy. We hope these ideas sparked merriment and inspire your gifting approach. If you're among those who aren't allowed to send tangible gifts we recommend reading this blog on giving versus gifting.