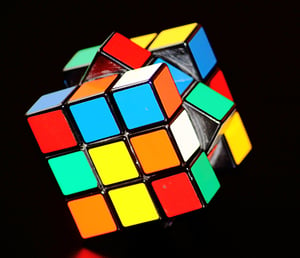 Remember the old Abbott & Costello "Who's on First?" comedy routine? Sometimes the world of website domain names, URLs, DNS records, site hosting and email accounts can seem like that — an endless, twisting loop of questions that seemingly lead to more unanswered questions and more confusion — it's just not funny.
"Where is your domain registered?"
"You host our website, don't you know?"
"Your site is hosted with us, but we no longer have access to the domain … the email got changed."
"But my email is connected to my website."
"Your email is at a third-party mail provider. Who's your email host?"
"I don't know!"
To help clear up the confusion, here are some basic things you need to know about the puzzle of website hosting components:
Be the master of your domain
A domain is the "name" of your website. For example, our website domain is adwhite.com. That's actually just the human-readable address at which your website is hosted. There's also a numerical IP address which is used by computers to access locations and devices over the internet. But it's much easier for people to relate to words rather than with long strings of numbers, so we use domain names.
Each website needs a unique domain name, and there are many companies which will sell them to you. Some of the more common ones are Google, GoDaddy and Network Solutions. Domain names are usually fairly affordable, often costing only $10 to $30 per year.
When you set up an account to purchase domain names, make sure to use contact information that you don't think will change. Many times, a domain is registered at a company's account that was set up by an employee who's no longer there, and the email address associated with the account has been deleted, leading to lots of confusion about who can access the domain registration. Keep it simple: use your info@ or the owner's email address to set up the account.
When it comes time to launch a new website, your web developer must have access to the domain registration account in order to point it to the website files. So it's important for you to know where your domain is registered and how to access the domain account.
Records were made to be broken
There are many types of Domain Name System (DNS) records, which are basically pointers to different parts of a network. An "A" (Address) Record points a domain to a particular IP address — telling your domain where the files are stored for your website. If the "A" Record isn't configured properly, the domain can't connect to the host, and you won't see the site. Sometimes it can be fun to not see the right web page, but it's not really good for business.
Another important DNS record is the "MX" (Mail Exchanger) Record, which tells the domain the location of the email server responsible for accepting messages to the domain. If your MX record isn't correct, email messages likely won't make it through to their destination.
Where's that email?
Speaking of email, free accounts are easy to come by these days — just remember that you get what you pay for. For robust, safe, reliable business email, step up to a professional email hosting provider. Depending on your needs, plans are available with many different levels of storage capacity, security, backup and tech support. We use AppRiver for our own email and recommend it to our clients. Once your MX records are configured correctly, your email and website will work hand-in-hand.
Details, details
If this all sounds complicated, it is. Even one wrong number or character in the DNS records can lead to problems. But you don't have to worry about configuring the DNS records or the domain settings for your site. As a business owner, you just need to know where your domains are registered and how to access them, and where your website and email are hosted. Some choose to own the domains or set up the hosting account themselves, other prefer to let their web developers take care of everything. Or it might take a combination of folks — internal resources combined with your web, marketing and IT partners — to make sure everything's working properly.
adWhite is highly skilled at web design and development of all kinds — from simple info pages, full eCommerce sites, backend web administration (including domain-name registration, website and email hosting) and complete inbound marketing services. Contact us to help you figure out Who's on First.