Why Landing Pages & What Are They?
Our world is even more interconnected today than it was a decade ago. The Internet is now seen as a necessity, a tool that we all access on a daily basis to find the information that we are seeking, at a fraction of a second, directly to our fingertips. With the increasing usage of the Internet, Social Media Marketing (SMM), Search Engine Marketing (SEM) and Search Engine Optimization (SEO) have arisen. Most websites now integrate their social media channels, like Facebook, Twitter, Google+ and Instagram, with their websites in order to increase traffic to their sites and raise brand awareness. Small to mid-size companies face even more difficulty when competing in the global arena, which is the internet.
Being interconnected with social media is definitely key to optimal website performance. So how can a company more efficiently drive traffic to their site and increase their overall search ranking? This is where landing pages come in! In this post we are going to discuss how to drive more traffic to your website through the use of social media and landing pages.
What are landing pages and how do they work?
A landing page is designed to be an extension of your actual website. It is usually a singular page filled with rich content that highlights one keyword/keyword phrase that relates to your site and offers specific information to a prospective client/customer. The page is designed with a contact form to drive traffic and hopefully turn onlookers into potential clients/customers by requesting more information. The goal of a landing page is to capture relevant, specific searches for the keyword outlined in the site into actual clients and business for you. Since the searches are relevant and specific to the landing page content, it results in more conversions.
Can I see some examples?
Here is an example for a client's site that we recently worked on. Each landing page is geared towards a specific keyword. See the below links to find out what a landing page can look like:
Example 1
Example 2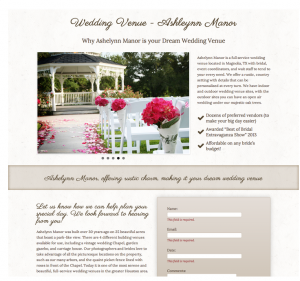 How do help drive traffic to my site or my landing pages?
While landing pages are designed to drive direct search results, you can also drive traffic there yourself. It's best to do this via social channels, where users can direct traffic to these specific pages. In addition to positing on your social media channels, it's important to consider the use of a blog. A blog is a great idea to help generate new, fresh and unique content that search engines will also pick-up/index. Here at adWhite we can easily integrate your social media channels into your landing pages, and help you with posting to your social media channels.In closing, Social Media Marketing (SMM), Search Engine Marketing (SEM) and Search Engine Optimization (SEO) are very important to the marketing success of a small business. At adWhite we can help you with any, or all of this, but you can also find many resources online and teach yourself if you have the time to manage.
Here are a few sites where you can learn more about landing pages and SMM, SEM and SEO in general: