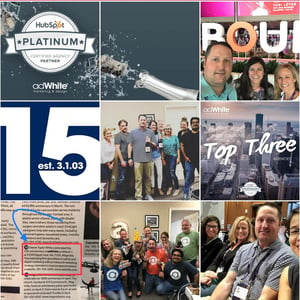 As we sit in the dead space between Christmas and the New Year, many of us are taking a minute to reflect on 2018 in our heads, and making plans and resolutions for 2019.
If you're an Instagram user, then chances are you're seeing your news feed inundated with Top Nine for 2018 posts. Because what better way to review the success of a year than by reviewing the success of your best nine Instagram posts?!
So without further ado, here's everything you need to know about Instagram Top Nine posts:
What is Instagram Top Nine?
It's an outrageously popular website (or download the app) that creates a collage of your nine most liked Instagram posts that were posted throughout the year. Along with creating the collage, Top Nine adds up the total number of likes your top nine posts received and even gives you the option of ordering customized gear with your top nine printed on it (think phone cases, tote bags, etc.).
How to Get Your Instagram Top Nine
To get your top-nine collage just download the free Top Nine app, or go to the website if you're using a desktop (shout-out to my parents). From there all you have to do is enter your Instagram handle and an email address and the app/website does the rest. Once the top nine collage is generated you can download it and Top Nine will also email you a copy.
If your account is private Top Nine will require you to log in to your Instagram account and, once logged in, will prompt you to grant third-party access to the app.
And that's it, folks! That's all you need to relive your best 2018 Instagram moments. Happy Instagram-ing, and Happy New Year everybody!