Blog
4 min read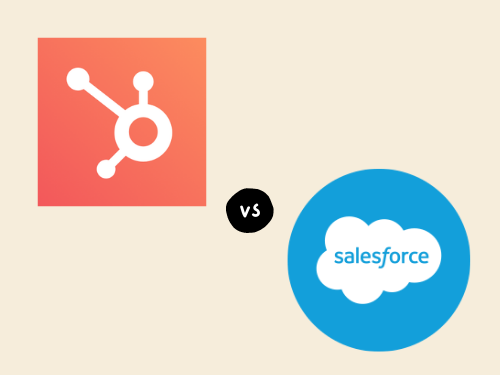 HubSpot or Salesforce: Which CRM is Right For You?
Customer Relationship Management (CRM) software was developed to aid companies in streamlining customer relationships and the data/information involved with them. Choosing a CRM platform that is a right fit for your business is essential to its success.
CRM platforms are complex and can seem daunting if you're not sure where to start.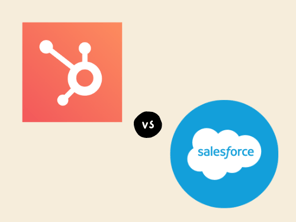 Here we provide you with a comparison of two of the major CRM players and their key features so that you know your options.
Overall Features
There are many CRM options on the market presently, but HubSpot and Salesforce are consistently top-rated by business owners.
HubSpot is "a cloud-based customer relationship management (CRM) platform that helps scaling businesses grow better with sales, service, marketing, and content management software." Their Sales Hub suite contains tools that provide contact management, sales analytics & automation, pipeline management, and more. It specializes in ease-of-use and quick adoption so that it can save time on employee learning and training for the platform.
Salesforce is also a cloud-based CRM platform with a variety of customizable applications for sales, marketing, and more. The Sales Cloud can combine sales automation tools, reporting, deal management, and more in order to help your business manage and automate the sales process.
Pricing and Cost
The total cost of a CRM for your business can really add up. Let's take a look at how Salesforce & HubSpot compare.
HubSpot can start for free – they offer a free option, called the "Basic" plan. While it lacks some major CRM features, it allows unlimited users and is a great way to familiarize yourself with the software prior to purchasing. You can also only sign up for the hubs you need, which helps your company's budget by not spending extra on tools you won't use. Not only that, HubSpot's pricing grows with your business, and remains much more flexible and transparent than Salesforce.
Paid versions are based on your company's needs:
Marketing Hub: $50-$3,200 per month
Sales Hub: $50-$1,200 per month
Service Hub: $50-$1,200 per month
HubSpot CMS: starting at $25 per month
The base and least customizable version of Salesforce is $25/user/month for a maximum of five users. To get the functionality your business needs, you will likely end up paying $150/user/month for their Lightning Enterprise plan for the Sales Cloud.
For a brief overview of the Sales Cloud pricing:
Essentials: $25/month per user
Professional: $75/month per user
Enterprise: $150/month per user
Unlimited: $300/month per user
Still on the fence? Check out HubSpot's pricing breakdown for a sales team of 50 here.
Automation
Prediction and automation tools are more important than ever to have within a CRM software.
Salesforce has its own marketing automation solution, Pardot, but it comes at an extra cost. Pardot does have the ability to automate sales funnels for new prospective customers, which is a plus.
HubSpot has a comprehensive automation feature that is included with your costs – it includes workflows that can be built around any value (contact, company, deal, and tickets). It also has internal or customer-facing "if this, then that" features. And, if you'd like to upgrade, HubSpot has predictive lead scoring, recurring revenue tracking and custom event triggers available.
Analytics
Both HubSpot and Salesforce offer powerful, complete analytics systems for sales teams.
Salesforce has a built-in analytics and reporting system that is customizable and can be great for businesses that need really in-depth and variable reporting data.
Recent improvements to HubSpot's report building have put them in the big leagues of CRM analytics. HubSpot provides up to 200 analytics dashboards that can help your team improve by providing reports on sales activities and pipelines.
Implementation & Onboarding Support
When choosing a CRM system, your business has to account for employee training and implementation of the platform. Let's compare HubSpot and Salesforce in their ability to be implemented quickly and efficiently:
HubSpot is dedicated to be easy and simple for admins, reps, and managers to learn and use. Not only can you sign up and start using HubSpot for free (and not just the trial version, either) but HubSpot provides a resource that's free for everyone: HubSpot Academy. It is a library of video courses that provide in-depth information regarding sales, marketing, and business. Their how-to blog is also especially helpful because it provides step-by-step directions regarding functionality of each hub's features. As a HubSpot paid customer, your team will have access to email, live chat, and 24/7 phone support.
Salesforce falls behind when it comes to ease-of-use for beginners. It's 14-day free trial is limited and forces you to decide quickly if the platform will be right for your business. Training your team to become Salesforce users can be difficult due to the large range of features and their Trailhead Academy (previously Salesforce University) is an additional cost. In most cases, companies will need to hire an in-house Salesforce specialist or schedule session(s) with one of their experts to learn the software, and it will add to your total cost. Each Salesforce plan includes a standard support package, with a two-day response time to your inquiries. For important or quick response times, you'll need to pay extra for their Premier Plan.
Integrations & Ecosystem
Companies today utilize many different tools and services when it comes to organization. It is important that your CRM allows for a large 3rd party ecosystem to streamline your sales process.
HubSpot's App Marketplace is a great option when it comes to 3rd party integrations. Installing and configuring integrations via the marketplace is simple with over 500 apps and integrations, many of which are native (HubSpot-built) integrations.
Salesforce's AppExchange is the largest and broadest CRM app marketplace, offering a wide variety of options for different requirements. AppExchange is the fast and easy way to extend Salesforce with over 3,400 apps and integrations.
Both CRMs provide efficient options for integrations and will meet your needs should you choose one. Additionally, both HubSpot and Salesforce offer open APIs and developer tools to help you cater your CRM to your company.
Conclusion: Which CRM to Choose
adWhite's recommendation? HubSpot.
HubSpot provides a powerful CRM platform that is amazingly easy to use and integrate into your company's sales team.
With flexibility to scale with your company, HubSpot's all-in-one platform is a great option to choose for a growing business.
Already using Salesforce? HubSpot's got your back. They provide an easy migration experience with no data loss.
Want to get your company started with HubSpot? Questions regarding inbound marketing? adWhite is here to help. Contact an inbound marketing expert today.
Subscribe to email updates
Recent posts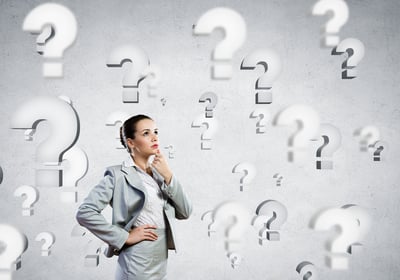 Related Articles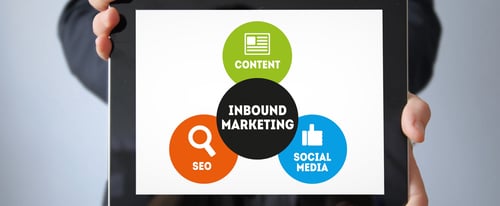 HubSpot's annual marketing shindig in Boston has grown over the years from 2,800 attendees bopping to Cyndi Lauper in its inaugural year in ...
Read More
Topics
Have you heard about HubSpot's CRM? It really is free and it really is awesome. I'm running across more and more prospects every day who are...
Read More
Topics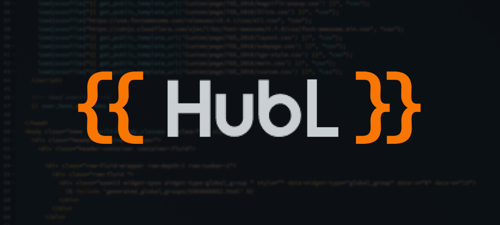 The HubSpot design manager and its default modules are a handy way for HubSpot customers to package and deliver content and marketing tools ...
Read More
Topics