Steve Jobs understood the importance of attention to detail in business better than anyone. He often reminded us, "Details matter, it's worth waiting to get it right."
Of course, the specific details vary based on industry, product, service, size of company, customer type, you name it. Whether it's adding a handwritten note to an order, triple checking a shipment for accuracy or fixing a technical issue at midnight what IS constant across all organizations is the fact that details matter. Going the extra mile for the customer can make a huge difference.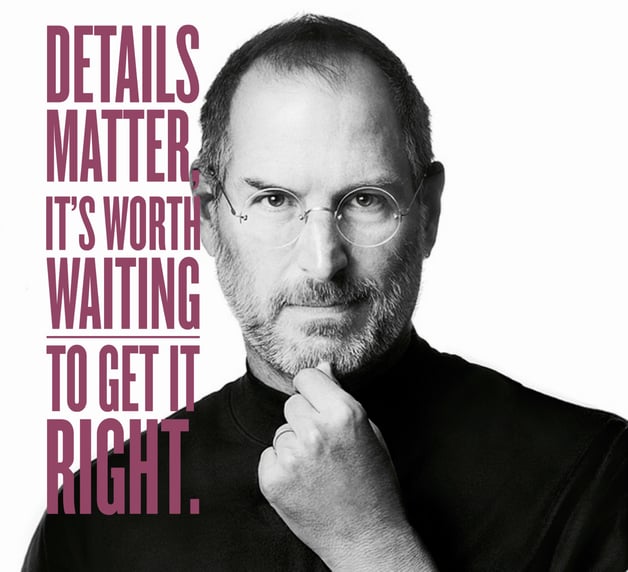 Example: Max's Cast
A hospital visit last week provided a great reminder to me of the importance of details. My six-year-old broke her arm and needed a procedure to reposition the misaligned bones. Not particularly fun for anyone, but she put on a brave face and clung to Max, her beloved stuffed puppy.
As the anesthesiologist asked her what flavor mask she wanted to knock her out, the nurse wrangled her messy hair into one of those surgical hats. She then humored her and asked if Max wanted a hat, too. Well of course he did!
As they wheeled my daughter to the operating room, I reached to take Max. She hesitated to let him go, and I made eye contact with the nurse who read my mind. She and told me Max could stay with her. So off they went.
After the procedure, the doc explained that he had done quite a bit of readjusting and warned us she'd likely be sore. They also had to replace her pink cast with a boring old white splint. So I was prepared for a rough couple days – a hurting, disappointed little girl (she really loved her pink cast!).
But ah, the details….
When she woke, still groggy from the anesthesia, my daughter immediately reached for her puppy. And what do you know?! She was delighted to find that Max sported a brand new white cast on his arm! The staff had taken the time to wrap a stuffed animal's stubby leg, simply because they knew it would brighten a child's day. And it did.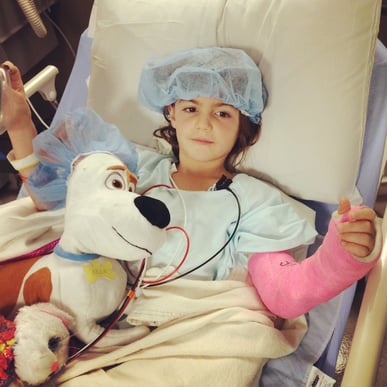 Max sporting his medical/lunch lady hat before heading to the operating room
As a mom, I was grateful that the doctors and nurses went out of their way to make her smile. It was a simple thing and probably took all of 30 seconds. But it mattered to her. In fact, the first thing she tells people when she recalls her time in the hospital isn't the pain. It's: "Max got a hat and a cast, too!"
Creating a Detail-Oriented Culture
From a business standpoint, Max's cast was a great reminder of how even the smallest detail can make a lasting impression. I'm pretty sure medical school doesn't have a course on casting stuffed animals. It's certainly not in the doctor's job description, and they don't get paid any extra for the effort. But that's the beauty of it. Even in a sterile hospital, the culture allowed for going that extra mile and personalizing a standard procedure.
Culture is important, because it's often what dictates the ability to do those little extras. But how do you develop that in your organization?
While there's no hard-and-fast rule, an organization that strives to promote a culture that values attention to detail should encourage the following traits:
1). Ability to Ignore Your Job Description – It may not be your job to clean the office, but if you notice trash on the floor or a mess in the break room – pick it up! A coworker asks for help with a project that's technically not in your territory? Share the knowledge! The customer will benefit and in turn, so will the company.
2). Empower Employees – Encourage employees to use their best judgment to delight customers. Whether it's offering a discount for an abnormally long wait or waiving a service fee, let them know you trust them to do the right thing. Then have their back.
3). Humanize Your Service – Doesn't matter if your job is fixing machinery or developing software – at the end of the day, you're working for people. To solve their problems. To make their lives easier. To help. I never felt that my daughter was just another medical case - she was a real-life kid who was scared and hurting.
4). Don't Settle – Don't settle for "that's good enough." If the landing page you're creating doesn't look right, take the time to figure it out. If the product you're selling is flawed, work to get it right before you ship.
5). Seek Feedback – Feedback is important. How can you know the problems to fix until you know they exist? You may never know until you ask. Ask what you could do better. Ask what could be changed. Ask what you did right. Then act on that feedback.
6). Take Responsibility – We all screw up. It happens. When it does, the best thing to do is admit responsibility, apologize, and do what it takes to make things right. Most people are reasonable, and they're willing to forgive and move on if they feel heard and understood.
In our crazy, busy lives sometimes it's best to slow down and remember why we're doing what we do. If we have the chance to make someone's day by taking an extra 30 seconds, why not? Remember that the little things matter.
It may be that small detail that sets you above the competition or helps you win the contract. Or the heart of a small child.