What Is Lead Generation?

In other words, lead generation ("lead gen" for short) is the art of attracting and converting strangers and prospects into leads, then nurturing them through the sales funnel where they eventually become customers.
Lead gen is a critical component of a successful inbound strategy and goes hand in hand with content marketing. You need BOTH to succeed. You may have killer content, but without a strategy in place to generate leads that blog, video or white paper you worked so hard to put together is useless. On the flip side, it's almost impossible to nurture leads and convert them to customers without great content. Even if you have all the right forms, workflows and follow-ups in place, it won't matter without relevant, compelling content.
There really are no shortcuts.
Fortunately, if you're feeling good about your content there are specific things you can do to make sure you're getting the most from your efforts. Below we outline eight ways to increase your efficiency and overall lead gen results.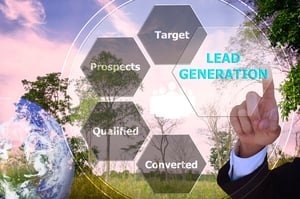 8 Ways to Get the Most Out of Your Lead Generation Strategy
1) Marketing Automation – It's hard to imagine executing a successful lead gen strategy without a marketing automation software (we use and love HubSpot, but there are others). This software brings everything together in one place, making it easy to see what content and channels generate the best results. The reporting features are key, because the data allows you to continuously tweak and update what works for you.
For example, a company may determine that some channels/tactics have a higher cost per lead, but result in higher overall revenue. A marketing automation software makes it easy to track and identify so you can determine the best opportunities for maximum ROI.
2) Focus on Qualified Leads – Yep, sales is a numbers game but not all leads are created equal. Since one new qualified prospect can be better than 10 unqualified leads, it's important to focus on qualified leads. You then nurture them down the funnel using the following:
Relevant Content Offers – Helpful, interesting and compelling offers
Landing Pages – Create multiple LPs for different offers, so we you can analyze the data and effectiveness of each
Forms – Each LP should have a form that capture data and automatically enters the lead into your contact database
Workflows – Set up strategic workflows, so that when a lead takes a certain action another automatically happens (ex: if they download X offer, then a week later they'll get an email with a link to ABC…)
Continued Nurturing – Analyze the data (page visits, downloads, etc.) and continue to communicate helpful info
3) Segmentation – Segmenting your content and messaging to different buyer personas increases your efficiency. HubSpot makes this easier by allowing you to create segmented lists or assign a lead to a certain buyer persona. Then, you can create customized messages that speak to their pain points/specific needs/communication style to increase effectiveness.
4) Run A/B Tests – Continuously test and experiment to determine which pages perform best. You may learn that certain layouts, CTAs, headlines, or even colors result in better conversation rates. Then use this data to adjust ongoing.
5) Create & Curate Quality Content – It's important to have high quality content. You can generate this content in multiple ways. Employees, guest bloggers, industry experts, current customers and others can help you develop ongoing content that is relevant and compelling. You want to position your company as an industry thought leader, using multiple formats including:
Blog Posts

Videos

Case Studies

Infographics

White Papers

Podcasts/Webinars

Conferences

Speaking Engagements

Articles

Press Releases
Additionally, you'll want to incorporate keyword research to help with SEO and promote via social media.
6) Test Targeted, Specific Social Media Ads – To be effective you'll want to be specific in your online advertising. Sure, this will cost a little more up front, but it will yield better, more qualified results.
7) Nurture Relationships w/ Current Customers – Continue to communicate with and build relationships with current customers. Engage with them through emails, social media and ongoing efforts. Referrals and repeat business are key in most businesses, and we all know it costs more to gain a new customer than to keep a current one.
8) Identify Strategic Partnerships/Align with Targeted Organizations – Build relationships with industry organizations, key leaders and other influential people in your industry. Determine how best to increase your involvement, whether it's speaking at industry functions, sponsoring key events, or guest blogging on other websites. Get involved and get noticed.
Lead gen is an important part of an overall inbound marketing strategy. If you would like to learn more about inbound marketing or lead gen, adWhite offers complimentary inbound assessments and would love to chat with you about your business. Contact us today.