The short answer is yes, there is nothing wrong with using stock photos in your marketing. BUT, it's not that simple.
I believe that stock photos are a necessary evil, especially because many small businesses simply don't have the time or the money for professional photo shoots.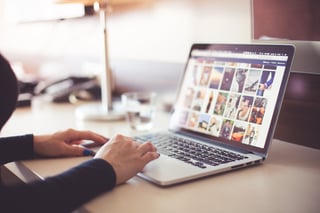 I think the real question here should be, "how can I best use stock photos in my marketing?" Since the use of stock images is so widespread these days, you can't just simply select a "smiling face" picture and hope it has a positive effect on the message you are trying to communicate. Instead, you need to try harder. You need to select an image that is relevant to the content it is paired with. You need to select images that have the right look and tone for the message you are communicating. You need to select images that are appealing to your target audience. Here's a great case study I just received that highlights the benefits of using Authentic Photos vs. Traditional Stock Photos.
Consider finding less-popular or less-well-known stock photo sites (some of our current favorites are: Twenty20, pixabay and PEXELS). Select images that have been downloaded less frequently than others in their category. And don't be afraid to crop the image in a way that makes it somewhat unique from the original.
These are all simple things, but more often than not, marketers are grabbing the first image they find and using it with little regard to its actual relevancy to the topic.
Once you understand what kind of picures to use and how to use them, that's not the final step. I think it's important to also understand that stock images or photography of any kind is not the only visual option you have. As my favorite content provider, HubSpot, highlighted in its blog post 42 Visual Content Marketing Statistics You Should Know in 2017, visual content is extremely important to any marketing message. One stat that stuck out to me from this blog is:
When people hear information, they're likely to remember only 10% of that information three days later. However, if a relevant image is paired with that same information, people retained 65% of the information three days later. (SOURCE)
We try to use a balance of images in our content marketing. A balance of charts, graphs, infographics and photographs. Don't limit yourself to just awesome, authentic and well-thought-out stock pictures, consider a variety of image types. But whatever you do, use something visual ... and relevant.


UPDATE - here's another link we've discovered with some more good resources: Almost 100 Free and Freemium Stock Image Websites
UPDATE #2 - here are two more high quality sites we've recently discovered that have a good selection of free stock photos: Pikwizard.com and Unsplash