Corporate giving comes in many forms. Some organizations offer an employee match program, while others allot a certain amount of paid hours for their employees to volunteer. Companies often support nonprofits they believe in, whether by financial or in-kind donations.
All businesses, no matter the size or industry, benefit from giving back, although some do it more effectively than others. By strategic planning, budgeting and careful research companies can realize great benefits from corporate giving.
Kendra Scott: Giving Back Made Personal
This concept has been mulling over in my mind after attending an amazing event at a Kendra Scott jewelry location in Austin last week. The event was dedicated to Holley Kitchen, a dear friend of Kendra's, who passed away from metastatic breast cancer earlier this year. Kendra Scott donated $100,000 to METAvivor, a non-profit dedicated to awareness, research and support for Stage IV Metastatic Breast Cancer. Also, for the entire month of October Kendra Scott will donate 20% of sales from certain products to the Breast Cancer Research Foundation, as well as provide a gorgeous pieces of Rose Quartz jewelry to a woman battling breast cancer for each piece sold.
Of course, being October there are plenty of opportunities to donate to breast cancer. But this one felt different. For one thing, it was personal. Kendra herself was a close friend of Holley's. There were pictures of the two of them together, a video playing and a touching post on the company's blog. METAvivior, the donation recipient, was specifically chosen because 100% of it's donations go toward research and support of those living with metastatic breast cancer. It's not just for awareness. Kendra Scott knows that what they really need is research for a cure. Her company is making a difference, and doing it for all the right reasons.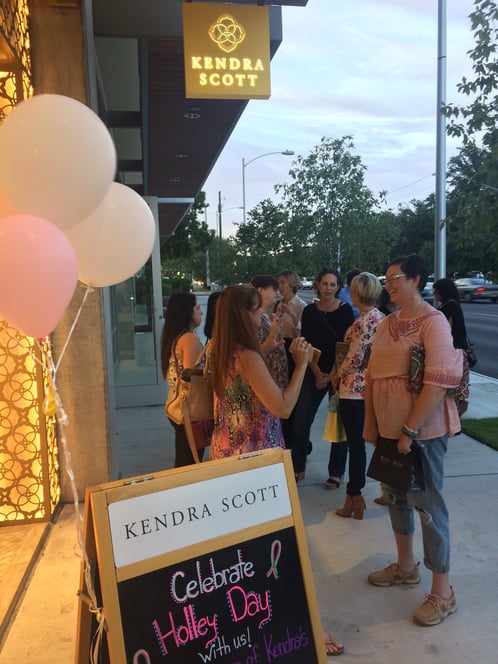 Kendra Scott is a great example of giving back done right.
When an organization makes it priority to give back, not only do they make a difference for the intended cause, but they often receive "bonus" benefits that extend to their employees and the entire community. Below are a few of they (sometimes unintended) benefits of corporate giving:
Seven "Bonus" Benefits of Corporate Giving
1) Boosts Employee Morale: People want to work for a socially responsible organization. When they see firsthand how their employer gives back, employees will be more engaged and proud. In fact, performance and retention rates are higher at companies that make giving a priority.
2) Reach a New Audience: Giving provides companies the opportunity to reach a different audience. Whether it's sponsoring a community event or hosting a fundraiser, they often come into contact with new potential customers. In the Kendra Scott example, perhaps not all of METAvivor.org followers were aware of Kendra Scott before, but they surely are now! Partnering with a nonprofit gives you access to their members and may bring new people to your website or retail location.
3) Increase Sales: I think almost everyone that attended the Kendra Scott event purchased at least one piece of jewelry - something that many likely wouldn't have bought had they not attended. And that's on top of the online purchases and those at other stores across the country. Sometimes, knowing that something "is for a good cause" helps people justify their purchase (umm.. guilty. I may have left with a few party favors myself.)
4). Make a Greater Difference for a Personal Cause: When a company donates to a cause that is personal, it matters. You can feel the difference. It doesn't seem "forced," or that they're doing it for publicity. I got the impression that Kendra didn't care about the publicity or how it would benefit her or even the company. However, by choosing to give through Kendra Scott LLC she was in a position to make a greater impact than if she'd simply written a personal check. She reached more people and created more awareness for Stage IV breast cancer. Talk about using your power for good.
5). Brings People Together: Kendra offered the unique opportunity to bring a group of local Stage 4 "thrivers" together. Many are connected through an online support group, but were able to meet for the first time that night at the store. This is a special group. They relate to each other and offer support the way others, no matter how empathetic, simply can't. They're living and battling daily with Stage IV. To see Kendra hugging women battling metatastic breast cancer and talking to friends that knew Holley, you knew it was a special event. Hard to put a price on that kind of connection and support.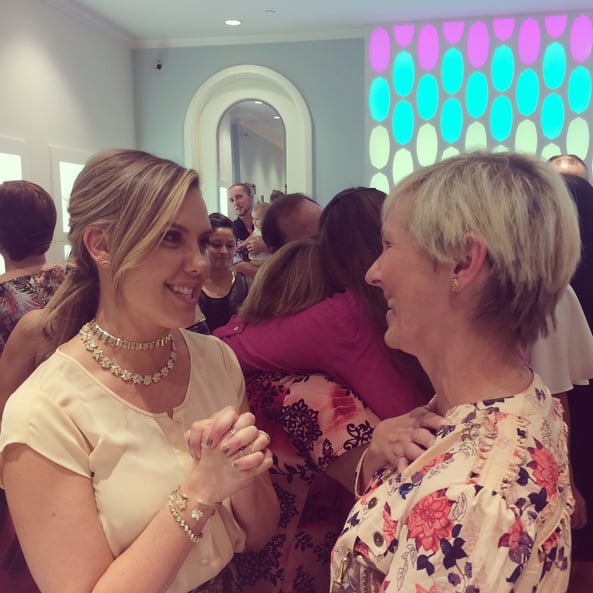 Kendra Scott connects with a local Stage IV "Thriver" at Holley Day
6). Brand Association: An added benefit of giving back is that your brand may be associated with supporting the cause. Whether it is literacy, animals, medical or another important cause, your organization can be associated with making a difference.
7). Tax Deduction: While you're out doing good, it doesn't hurt to know that your donation to a 501c3 corporation is tax deductible.
Obviously it's important to research and put a lot of thought into your company's corporate giving. Budget for it, plan for it and discuss it with your employees. Making decisions about your company's corporate giving is a major responsibility. You have the opportunity to positively impact many lives, so take time to research, ask questions, seek input and review your giving regularly.